Sage Room Picture Book
(you can stop the images by placing the cursor on a page)
Sage Room
Our Sage Room is on the first floor, and has a romantic queen size sleigh bed. Our Mennonite friends sewed a "Boston Commons" quilt with rich colors for this bed. This room is the perfect antidote for those who have trouble sleeping while traveling- our Sage Room guests are often astonished at how well they sleep. The room also features 2 comfortable Queen Anne style recliner chairs for quiet moments reading or just relaxing by the fireplace. The room is air conditioned and has an attached private bath.
The Sage Room is $159 per night.

Value Plus Package
Our Weekday Value Plus package adds a big bonus to your visit to the Finger Lakes. We have gathered deals at local restaurants, creameries, and lots of wineries throughout the Finger Lakes. Enjoy free tastings and discounts at wineries, discounts or complimentary additions at restaurants, free cheese tasting- all for only $1.00! This Weekday Value Plus package is available with any stay of two or more nights, Sunday through Wednesday. Just mention that you'd like the Weekday Value Plus package when you make your reservation and we will get you all set up!
Wine Tour Packages
Our Wine Tour Packages feature two nights lodging, our legendary breakfast each morning, and a 6 hour private tour of the local wineries in a luxury sedan. Your knowledgeable and courteous driver will help you find the wineries that best suit your tastes, and safely drive you around the lakes.
The Summer/Fall Wine Tour Package is available May 1, 2013 through October 31, 2013
The Summer Wine Tour package price for the Blue Room is $739.

Prices are per couple, and include lodging and tour taxes, but not the driver gratuity.

The Wine Tour Packages are subject to availability of cars from our limousine partners- many weekend and holiday dates book up well in advance. Planning a trip with friends? We have attractive rates for two or more couples!
Tour the Finger Lakes from a hot-air balloon!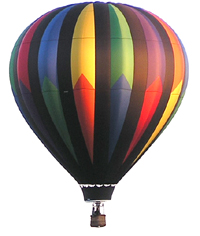 Step out of the B&B and into the basket of a hot air balloon to start your unforgettable flight over our beautiful region in the Finger Lakes. Glide over the rolling farmland and vineyards, leading to breathtaking lake views. Our balloon partners have years of experience, and make each flight an exhilarating experience. Our Hot Air Balloon Packages start at $999, and include two nights in one of our well appointed rooms, our award winning breakfast each morning, and an amazing flight launched from our property. (Read this article to see how amazing a flight from our B&B can be!)

The Balloon package with the Sage Room is $999, tax included.

Prices are per couple, and include taxes and pilot gratuity.
The Balloon Tour Packages are subject to availability of flights- many weekend and holiday dates book up well in advance.
These offers are subject to availability and cannot be combined with any other special, coupon or 3rd party certificates (gift cards/certificates not issued by Los Gatos B&B).
Sage Room Availability for next 3 Months