Home > About Los Gatos B&B


(*Spanish for "The Cats")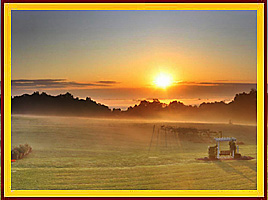 Your hosts, Burney and Susan Baron, moved to Penn Yan from Northern California in mid-December 2002, with their three cats. They were drawn by the beauty of the region, with it's many lakes and waterfalls, scenic farms and vineyards. Leaving a large metropolitan area for an area that is largely agricultural has had many benefits: no traffic jams, clean air, and marvelous fruit and produce. The clip-clop of horses' hooves pulling one of the many Mennonite neighbors' buggies adds a feeling of a change in time as well as place.
The pace of life has allowed time to use old skills and work on new ones. Susan's flower gardens have been drawing attention from many people living in the area, and provide cut flowers for in the guest rooms. Homemade jams, syrups, and breads are served to guests at breakfast. Stained glass that Burney and Susan produce is used throughout the house.
The lack of bright city lights has been a real treat for Burney, an avid astronomy enthusiast. On clear nights it is not unusual for objects like the Andromeda Galaxy, the Double Cluster, and Beehive Cluster to be visible to the naked eye. With our large telescopes and clear skies, astronomy tours have become part of the routine at Los Gatos B&B.
Penn Yan is located in the heart of the New York's Finger Lakes and offers visitors a wide choice of activities as well as exceptionally beautiful vistas. When staying at Los Gatos Bed and Breakfast you may want to begin your day by enjoying some of the most glorious views of the Benton Valley while eating a full country style breakfast in the gazebo or in the enclosed sun room. After breakfast, a walk in the shady woods may be your choice, or perhaps check out our 'tasting garden', or some quiet time relaxing with a book in your room or on the front porch.