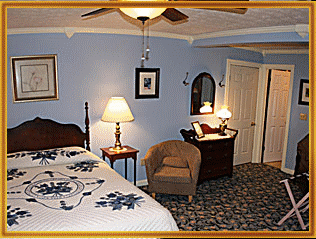 Hello Friend of Los Gatos B&B!
With March and Spring arriving, we are wrapping up the last of our "Winter Projects" and getting ready for the 2010 season to begin. We've been busy this year with a total remodel/refreshing of our Blue Room - the finished look is quite different from the old, with floral carpeting, crown molding and comfortable barrel chairs to set off walnut antique accent pieces. We've added a bit more space, an electric fireplace, TV and DVD player, as well as bringing the private bathroom en-suite.
Now is a great time to start planning your next trip to this area - the wineries are busy getting their new releases ready, festivals are being planned throughout the area, hiking trails and water venues will be starting up again soon (and we will be opening our cabins April 16th!).
We have several great value specials to offer -
Finger Lakes Escapes Specials
Have you had enough of winter? Are you ready to escape from the house and have some fun? There is still time to take advantage of the Finger Lakes Escpes packages- our Winter Escapes program runs through April. The Finger Lakes are beautiful as we shift from winter into spring, and here is a great chance for a relaxing getaway: 2 nights lodging, our full country breakfast each morning, a $40 gift certificate, and the VIP card for free tastings and discounts at select wineries on Keuka and Seneca Lakes. The Escapes are available 7 days a week, starting at $229. Call us or book on-line to reserve a package- or give one in the form of a gift certificate! This is where our newsletter subscibers get a bonus- we offer a special that is only available through our newsletter. Want to receive a newsletter? Sign up here!
Wine Tour Packages
Once again we are offering a Winter Wine Tour Package at attractive prices. Our Wine Tour Packages feature two nights lodging, our award-winning breakfast each morning, and a 6 hour private tour of the local wineries in a luxury sedan. Your knowledgeable and courteous driver will help you find the wineries that best suit your tastes, and safely drive you around the lakes. The Winter Wine & Dine Package is available through April 25, 2010. Prices start at $549, and include lodging and tour taxes.
Winter Wine Weekend Packages
Los Gatos B&B is teaming with Finger Lakes Wine Country to bring Winter Wine Weekends. Available through April 30, 2010, we are offering "stay two nights, get the third night free."* To make this promotion even more valuable you will receive a FREE bottle of a select Finger Lakes wine, FREE wine tasting certificates, gift certificates, coupons, and other cool FREE stuff. Included is the Finger Lake Wine Country's Palate coupon book (discount coupons at area wineries, museums, and retailers).
* These nights must be booked consecutively. It does not have to be a weekend, simply choose any three consecutive nights.
We are developing our summer packages- be sure to check our Specials page as you make your travel plans!
Spring Recipe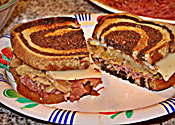 Here is a recipe that is easy, and makes a warm and hearty meal. Start it in the morning in a slow-cooker, and the house will be filled with a delicious aroma when you come in from a day of outside chores, or the group comes over to watch some hoops. As we roll towards St. Patrick's Day, a lot of stores are offering corned beef at a discount- you will want to stock up for this variation on a classic:
CROCK-POT REUBEN SANDWICHES
1 corned beef brisket (about 3 pounds)
2 14.5 oz cans sauerkraut, drained
1 cup beef broth
2 small onions, sliced
2 clove garlic, minced
1/2 teaspoon caraway seeds
4 to 6 peppercorns
Pumpernickel, rye, or marbled rye bread
Sliced Swiss cheese
Mustard
1000 Island Dressing (optional)
1. Trim and discard excess fat from corned beef. Place beef in crock-pot. Add sauerkraut, broth, onion, garlic, caraway seeds and peppercorns.

2. Cover; cook on low 7 to 9 hours.

3. Remove beef from crock-pot slow cooker and let set 5 minutes. Cut across grain into ½-inch-thick slices. Place sliced beef on toasted bread. Top each slice with ½ cup drained sauerkraut mixture and 1 slice cheese. Spread mustard and/or dressing on toasted bread slices and place on sandwiches.

Makes 8 hearty sandwiches!

Upcoming Events:

The Windmill Farm & Craft Market opens Saturday, April 24.

Orchid Show- Sonnenberg Gardens March 5-7
Sonnenberg Gardens & Mansion State Historic Park, Canandaigua

Seneca Lake Wine Trail
Cruisin' The Tropics Weekend - March 26-28
Polar Passport - through March 31 2010
Spring Wine & Cheese Weekend - April 23-25

Keuka Lake Wine Trail
Around The World In Eight Wineries - April 17-18


Burney & Susan Baron
Los Gatos Bed & Breakfast
http://LosGatosBandB.com
Toll Free: 866.289.7381
(315)536-0686