Greetings Friends!
2009 has arrived, and we are hoping for another good year for all of us! After a couple of mild years, we are finally getting a real winter! There is little more beautiful than frozen lakes with ice fishing huts, waterfalls with the bubbles frozen in them or the snow covered fields right here in Penn Yan. Most wineries on both Keuka and Seneca Lakes are open for business, the roads are good, and the "specials" (both at the wineries and Los Gatos) are outstanding.
Winter Package Deals
For our winter guests, we are offering a choice of two packages. Our Winter Escapes two night packages are available any day of the week, and offer:
2 nights lodging
Full country breakfasts each morning
$40 certificate good at area restaurants and wineries
VIP card for free tastings and discounts at participating wineries
The Winter Escapes Packages start at $229 plus tax, and are available until the end of April.
This year we have partnered with a couple of limosine companies and Madderlake Cafe to offer a Winter Wine and Dine Package. This is a complete package for a winter wine getaway:
2 nights lodging
Full country breakfasts each morning
6 hour wine tour in a private limosine
$50 certificate towards dinner at Madderlake Cafe
The Winter Wine & Dine Package is available Wednesday to Sunday, through April 26, 2009. Prices start at $575, and include lodging and tour taxes.
The Cabins Have Been Named (Finally!)
We have many strengths, but naming rooms is not one of them. After a brief time with "The Cabin" and "The Other Cabin" (eerily similar to "Darryl" and "Other Brother Darryl") we latched onto "Cabin I" and "Cabin II". That still didn't seem right, so after much debate, we went to the old standby of naming for color schemes. Therefore, when the cabins reopen this year - March 27 - they will have real names! Casa Verde (Green House) and Casa Azul (Blue House) will replace "Cabin I" and "Cabin II". The cabins are proving to be wonderful additions to Los Gatos B & B. Those of you who have visited us during their construction will want to stop by and check them out now that they are completed. We are very pleased with the finished cabins and reports from guests who have stayed in them have been very complimentary.
Summer and Fall Escapes Packages
Prices for just about everything (except gasoline) continue to go up all around us, but not here at Los Gatos! We are keeping our rates the same for the third summer in a row! We will also be offering our Weekday Summer Escapes Packages again from May 3 - October 31, starting at $259 plus tax for a two night stay. You can click here to see availability for all of our packages.
New Telescope
We have had a lot of fun sharing the night skies with our guests over the past 6 seasons. During a recent vacation, we visited a large telescope dealer and came away with souvenirs! Our new telescope will give us even more options for sharing views under different conditions, as well as allowing for us to do some astrophotography. Be sure to let us know if you would be interested in doing some star-hopping- we are always glad to bring out the "toys". Have your own 'scope or binoculars? Bring them along- the more, the merrier!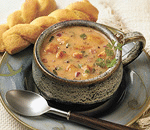 Winter Recipe
This has been a great winter for hearty soups! This is one that you might make a day ahead- the flavor gets even better as it is rewarmed!
Chicken Chowder
Serves 6 to 8

2 slices bacon, cut into small strips
1/2 pound Chicken and Apple Sausage
1 onion, coarsely chopped
2 leeks, whites only, thinly sliced
2 cloves garlic, minced
1 carrot, diced
2 ribs celery, diced
1/4 cup all-purpose flour

1 pound unpeeled white or red new potatoes, diced
2 quarts rich chicken stock, preferably homemade
1 cup white wine
2 cups diced cooked chicken or turkey
2 cups half-and-half
Salt and freshly ground black pepper to taste
Chopped fresh parsley for garnish
Brown the bacon in a heavy soup pot over medium-high heat. Remove with a slotted spoon and reserve. Add the sausage and fry for 5 minutes, breaking it apart as it cooks. Remove and reserve.

In the same pot over medium heat, cook the onion, leeks, garlic, carrot, and celery until the vegetables are soft, about 10 minutes. Sprinkle the flour over the vegetables, stir well, and cook for an additional 2 minutes, stirring often. Add the diced potato and stir well to coat with the vegetable-flour mixture.

Remove the pot from the heat and gradually stir in the stock and wine, stirring briskly to avoid lumps. Cook the chowder at a simmer for 45 minutes, stirring occasionally. Ten minutes before serving, add the diced chicken, reserved bacon and sausage, and the half-and-half. Taste for salt and pepper. Garnish with chopped parsley.

Winter Events

Canandaigua Classic Antique Show And Sale Feb 8, 9 am - 4 pm
Horse Drawn Sleigh Rides, Granger Homestead, Sundays through Mid-March
Native American Winter Games and Sports, Ganondagan Historic Site, Feb 7
Orchid Show- Sonnenberg Gardens March 6 - 8

Seneca Lake Wine Trail
Chocolate and Wine - February 6 - 8
Cruisin' the Tropics - March 27 - 29
Spring Wine And Cheese Weekend Event- April 24 - 26

Keuka Lake Wine Trail
Truffles And Tastes - Feb 14 & 15
World Tour Of Food And Wine - April 4 - 5 & 25 - 26


Burney & Susan Baron
Los Gatos Bed & Breakfast
http://LosGatosBandB.com
Toll Free: 866.289.7381
(315)536-0686