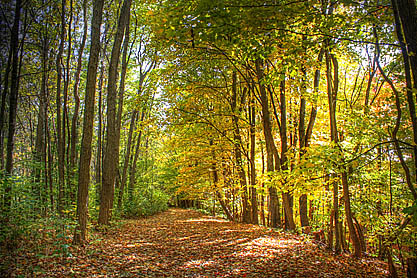 Ravine trail through our woods.
As we look out our back windows we see the Fall colors exploding all around us - it is absolutely beautiful! We are still enjoying fresh strawberries from our hydroponic garden and are looking forward to fresh artichokes now that the weather is cooling down. Susan's dahlia's are outdoing themselves with big colorful blooms. Life is good!
Those of you receiving this newsletter probably know that creating, opening and operating Los Gatos B & B has been a great adventure for us filled with many learning opportunities. Marketing our inn has been an ongoing lesson, one that we will continue to work with as long as we are here. This year we tried some new things - early in the year we offered a Groupon for a one night stay during the winter months. This was a fun way to get new people to come try our Bed & Breakfast and we feel it was a very positive experience for us. We also have incorporated a new tag line on our business cards and advertising - "Come Stay with Us!". This little phrase is catching peoples eye and people are indeed, coming to stay with us.
Customer Appreciation
For several years now we have chosen November and December as the months we dedicate to saying "Thank You" to our guests by... This is where our newsletter subscibers get a bonus- we offer a special that is only available through our newsletter. Want to receive a newsletter? Sign up here!

Finger Lakes Escapes Specials
Are you thinking ahead for your winter get-away? We have designed Escape Packages that are perfect for when you are ready for a break and want to get away. Our Winter Escapes program will run January through April. The Finger Lakes are beautiful in the winter, and here is a great chance for a relaxing getaway: 2 nights lodging, our full country breakfast each morning, a $40 gift certificate, and the VIP card for free tastings and discounts at select wineries on Keuka and Seneca Lakes. The Escapes are available 7 days a week, starting at $299 plus tax. Call us or book on-line to reserve a package- or give one in the form of a gift certificate!
Wine Tour Packages
Once again we are offering a Winter Wine Tour Package at attractive prices. Our Wine Tour Packages feature two nights lodging, our award-winning breakfast each morning, and a 6 hour private tour of the local wineries in a luxury sedan. Your knowledgeable and courteous driver will help you find the wineries that best suit your tastes, and safely drive you around the lakes. The Winter Wine & Dine Package is available through April 30, 2012. Prices start at $595, and include lodging and tour taxes.
On-line Gift Shop
We have been busy making our jams and jellies, so we have good stock on your favorite flavors. Our on-line gift shop at http://losgatosbandb.com/catalog also has our Apple Cider Syrup, coffee, and coffee mug. Need a very special gift? Check out our gift certificates, available through the gift shop or by phone.
Pride of New York Harvest Fest
Our jams and jellies will be featured at the Pride of New York Harvest Fest at the New York State Fairgrounds November 5-6. The Fest's theme is "Indulge your tastebuds!", and there will be plenty of opportunity to do just that. Besides our jam, there will be vendors sampling crisp tasty produce, fine wines, quality meats, baked goods, maple and honey products, salsas, marinades, milk and ice cream, fresh fragrant flowers and more. There will also be cooking demonstrations and seminars. We hope to see you there!
Fall Recipe
The apples in this area have been outstanding this year. This is a light and moist cake that has a nice layer of apple slices: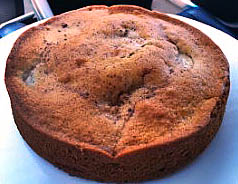 Apple Cake
1 cup all-purpose flour
1/2 tsp. baking powder
1/2 tsp. baking soda
1/4 tsp nutmeg
1/2 tsp cinnamon powder
1/2 stick butter, softened slightly
2/3 cup sugar
1/2 tsp vanilla extract
1 large egg
1/2 cup buttermilk
1 apple- peeled, cored, and sliced
Directions: Preheat the oven to 400°. Grease a 9-inch cake pan. Mix the flour, baking powder, baking soda, nutmeg, and cinnamon. In a larger bowl, cream together the butter and 2/3 cup sugar until fluffy. Add in the vanilla extract and egg, beat until very fluffy. Add dry ingredients alternately with buttermilk; lightly beat after each addition. Pour about 2/3 of the batter into the cake pan. Place the apple slices in the batter and then pour the rest of the batter over the slices. Evenly spread the batter. Bake for 20-25 minutes or until a toothpick inserted comes out clean.




Fall Events:

2300° at the Corning Museum of Glass
This series of free, themed events features live glassmaking demonstrations by guest artists, live music and great regional fare.
2300°: Honky Tonk Holiday Thursday, November 17
Peace, Love, and 2300° Thursday, December 15

The Windmill Farm & Craft Market is open Saturdays through December 10.

Christkindl Market 2011 - November 11-13
Granger Homestead and Carriage Museum, Canandaigua

Seneca Lake Wine Trail
Deck the Halls - November 18-20, December 2-4
Polar Passport - December 5, 2011 through March 31 2012

Keuka Lake Wine Trail
Keuka Holidays - November 12-13 & 19-20

Dickens' Christmas in Skaneateles
Thanksgiving Friday, then Saturdays- Sundays through Dec 24



Burney & Susan Baron
Los Gatos Bed & Breakfast
http://LosGatosBandB.com
Toll Free: 866.289.7381
(315)536-0686