Greetings from Los Gatos Bed & Breakfast!
What a wonderful year this has been! Our thanks go out to all of you for helping our business to grow again this year- we are always grateful that you have chosen to stay at Los Gatos when you visit the Finger Lakes. We enjoy having the chance to meet new guests and then always look forward to greeting them again when they come back as friends! We are also getting to meet many of your friends and families when you recommend us or bring them with you on return visits - something we enjoy very much!
Between the flowers, fruits and vegetables, our gardens continue to intrigue and delight our guests. The "tasting garden" has been our focus this year. Expanding on the traditional and straw bale gardening and the espaliered trees we have done in the past, we added some vertical hydroponics. With strawberries in half the stacks and mixed veggies in the others, the gardens were booming with good things to sample all summer long. Even now we have still have a few raspberries, strawberries and artichokes ripening!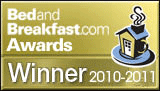 BedandBreakfast.com Award III
Again this year our guests have continued to share the word about Los Gatos B&B through Tripadvisor and BedandBreakfast.com. These independent reviews are becoming more and more important to prospective guests when they are deciding where to stay. We appreciate that so many of you have written such nice things about your experiences here with us. For the third year in a row BedandBreakfast.com has selected us for an award - this year in their "Best of the Mid-Atlantic" category. With more than 9,000 B&B's for them to choose from, we feel honored to have been selected. The award is based on the number and quality of the reviews posted on their site about us, so our thanks go out to you for sharing your kind words about us! Thanks!
Customer Appreciation
Our guests are THE BEST, and to show our appreciation we would like to offer you our best deal of the year! Stay with us in November or December for two or more consecutive nights and we will ... This is where our newsletter subscibers get a bonus- we offer a special that is only available through our newsletter. Want to receive a newsletter? Sign up here!

Finger Lakes Escapes Specials
Are you thinking ahead for your winter get-away? We have designed Escape Packages that are perfect for when you are ready for a break and want to get away. Our Winter Escapes program will run January through April. The Finger Lakes are beautiful in the winter, and here is a great chance for a relaxing getaway: 2 nights lodging, our full country breakfast each morning, a $40 gift certificate, and the VIP card for free tastings and discounts at select wineries on Keuka and Seneca Lakes. The Escapes are available 7 days a week, starting at $259 plus tax. Call us or book on-line to reserve a package- or give one in the form of a gift certificate!
Wine Tour Packages
Once again we are offering a Winter Wine Tour Package at attractive prices. Our Wine Tour Packages feature two nights lodging, our award-winning breakfast each morning, and a 6 hour private tour of the local wineries in a luxury sedan. Your knowledgeable and courteous driver will help you find the wineries that best suit your tastes, and safely drive you around the lakes. The Winter Wine & Dine Package is available through April 30, 2011. Prices start at $595, and include lodging and tour taxes.
On-line Gift Shop
With the holidays approaching, we want to remind everyone that we have gift certificates available which can be purchased through our on-line gift store at http://losgatosbandb.com/catalog. Our jams, jellies, syrup and coffee are also available there as well as many of the fun cat tiles. We doubled our jam-making this summer, so we should have plenty of your favorites in stock!
Pride of New York Harvest Fest
Our jams and jellies will be featured at the Pride of New York Harvest Fest at the New York State Fairgrounds November 6-7. The Fest's theme is "Indulge your tastebuds!", and there will be plenty of opportunity to do just that. Besides our jam, there will be vendors sampling crisp tasty produce, fine wines, quality meats, baked goods, maple and honey products, salsas, marinades, milk and ice cream, fresh fragrant flowers and more. There will also be cooking demonstrations and seminars. We hope to see you there!
Fall Recipe
The cooler weather and longer evenings encourage us to do some baking. We make Banana Bread fairly often because it can be served with butter or cream cheese at breakfast, as a snack, or as an evening treat. This recipe makes a bread with very nice texture, and it freezes well: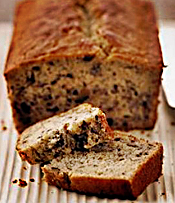 BANANA BREAD
3 1/2 c. sifted all-purpose flour
3 tsp. baking powder
1 tsp. salt
1 tsp. baking soda
2 c. mashed, ripe bananas (4 to 6)
2 tblsp. lemon juice
3/4 c. shortening
1 1/2 c. sugar
3 eggs
3/4 c. milk
1/2 c. chopped pecans or walnuts (chop fine for easy slicing)
Sift together flour, baking powder, salt and baking soda.

Mash bananas with rotary beater or fork. Add lemon juice and mix.

Cream shortening and sugar with mixer at medium speed, or with spoon. Add eggs and beat thoroughly until very light and fluffy.

Add sifted dry ingredients alternately with milk; lightly beat after each addition. Fold in bananas and nuts.

Pour into 2 greased 8 1/2 x 4 1/2 x 2 1/2" loaf pans. Bake in 350° oven for 1 hour, or until cake tester or wooden pick inserted in center of loaf comes out clean. Cool in pans 10 minutes. Remove from pans and cool on wire rack. Wrap in foil or plastic wrap and let stand in cool place overnight before slicing, or freeze. Makes 2 loaves.


Fall Events:

The Windmill Farm & Craft Market is open Saturdays through December 11.

Christkindl Market 2010 - November 12-14
Granger Homestead and Carriage Museum, Canandaigua

Seneca Lake Wine Trail
Deck the Halls - November 19-21, December 3-5
Polar Passport - December 6, 2010 through March 31 2011

Keuka Lake Wine Trail
Keuka Holidays - November 13-14 & 20-21


Burney & Susan Baron
Los Gatos Bed & Breakfast
http://LosGatosBandB.com
Toll Free: 866.289.7381
(315)536-0686