Greetings from Los Gatos Bed & Breakfast!
Despite dire predictions for the travel and accommodation industries this year, 2009 has been a good year for us at Los Gatos Bed & Breakfast - Thank you to one and all for choosing to stay with us while you were here in the Finger Lakes! We enjoy having the opportunity to meet and get to know each of our guests, and appreciate your choosing our home to be your "home away from home". And of course, we look forward to seeing all our friends when a return visit to the area is possible!
During the Winter and Spring months we were busy here refreshing our Sunroom with fresh finishes and beautiful stained glass windows, having a new sidewalk installed and planting our first "tasting garden". Burney did a great job constructing the grape themed stained glass windows - which are especially beautiful in the mornings when the sun comes through them. The new block sidewalk starts at the driveway and goes all the way to the cabins. Combined with a bit of new landscaping, it really ties the front together nicely. The tasting garden ended up being combined with foods and flowers, with some traditional gardening techniques and a few more creative ones. Burney's straw bale plantings did very well (we are still eating zucchini!) and the upside down tomato bag was a hit too. One of our most exciting successes was with our artichoke plants - yes, you can grow artichokes in New York! Susan's dahlia's once again outdid themselves, providing flowers for the house from July through mid October.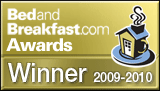 BedandBreakfast.com Award II
Our guests continue to spread the word about Los Gatos B&B through Tripadvisor and BedandBreakfast.com. As independent reviews are becoming more and more important in the decision-making process for prospective guests, we are appreciative that so many of our guests have written about their experience with us. Our breakfasts have been a recurring theme- so much so that we were selected once again for a Best of BedandBreakfast.com Award, this time for "Best Food"! As before, the selection is based on the number and quality of the reviews that have been posted on their site. Lots of you have written very nice words about us- Thanks!
On-line Gift Shop
With the holidays approaching, we want to remind everyone that we have gift certificates available which can be purchased through our on-line gift store at http://losgatosbandb.com/catalog. Our jams, jellies, syrup and coffee are also available there as well as many of the fun cat tiles. We worked with some different fruits and flavors for our jams and jellies, including a Valvin Muscat Grape Jelly- check it out!
Treat Someone Special to a Holiday Getaway!
This holiday season, treat yourself and someone special to a Finger Lakes Getaway at Los Gatos Bed & Breakfast. Take in the sights around the beautiful Finger Lakes. Do some tasting at the wineries, check out the Windmill Craft Market, and get some gifts at local shops. Enjoy a romantic dinner at one of the many fine restaurants in the area. In the morning, we will treat you to one of our famous home-made breakfasts.
This is where our newsletter subscibers get a bonus- we offer a special that is only available through our newsletter. Want to receive a newsletter? Sign up here!
Finger Lakes Escapes Specials
Are you thinking ahead for your winter get-away? We have designed Escape Packages that are perfect for when you are ready for a break and want to get away. Our Winter Escapes program will run January through April. The Finger Lakes are beautiful in the winter, and here is a great chance for a relaxing getaway: 2 nights lodging, our full country breakfast each morning, a $40 gift certificate, and the VIP card for free tastings and discounts at select wineries on Keuka and Seneca Lakes. The Escapes are available 7 days a week, starting at $229. Call us or book on-line to reserve a package- or give one in the form of a gift certificate!
Wine Tour Packages
Once again we are offering a Winter Wine Tour Package at attractive prices. Our Wine Tour Packages feature two nights lodging, our award-winning breakfast each morning, and a 6 hour private tour of the local wineries in a luxury sedan. Your knowledgeable and courteous driver will help you find the wineries that best suit your tastes, and safely drive you around the lakes. The Winter Wine & Dine Package is available through April 25, 2010. Prices start at $549, and include lodging and tour taxes.
Fall Recipe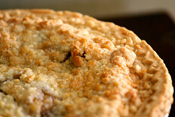 This has been an amazing year for New York apples. The size and quality of the apples have been outstanding. We've been processing apples for Dutch Apple Pie jam and applesauce . We also have been making a lot of apple desserts- apple crisps, apple cobblers, apple dumplings, and of course, apple pie. This is a variation on the old standard that is easy and quick to make:
BUTTERMILK APPLE PIE

Pastry for 1 Crust Pie
½ cup Sugar
1 Egg
1 teaspoon Vanilla
1 teaspoon Lemon Juice
1 cup Buttermilk
3/4 teaspoon Cinnamon
1/4 teaspoon Nutmeg
3 tablespoon Flour
2 ½ cup Sliced Baking Apples
Topping:
½ cup Sugar
½ cup Flour
½ cup (1 stick) Butter

Preheat oven to 400°. Fit pastry for crust into 10" pie pan. Put apple slices in pastry. Stir sugar and egg until creamy. Add vanilla, lemon juice, and buttermilk- stir well. Add flour, cinnamon, and nutmeg; stir until smooth. Pour mix over apple slices. Combine the sugar and flour for the topping and cut in the butter until well blended. Scatter topping over apple mix. Bake at 400° for 10 minutes. Reset temperature to 375° and bake pie 35 minutes (topping will start browning). Let cool for an hour before serving.

Fall Events:

The Windmill Farm & Craft Market is open Saturdays through December 12.

Christkindl Market 2009 - November 13-15
Granger Homestead and Carriage Museum, Canandaigua

Seneca Lake Wine Trail
Deck the Halls - November 20-22, December 4-6
Polar Passport - December 7, 2009 through March 31 2010

Keuka Lake Wine Trail
Keuka Holidays - November 15-16 & 22-23

Westside Wineries of Keuka Lake:
Wines and Pines - December 5-6

Dickens' Christmas in Skaneateles
Thanksgiving Friday, then Saturdays- Sundays through Dec 24


Burney & Susan Baron
Los Gatos Bed & Breakfast
http://LosGatosBandB.com
Toll Free: 866.289.7381
(315)536-0686