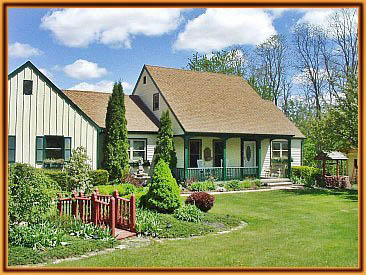 Greetings from Los Gatos Bed & Breakfast!
2008 has been another year of growth here at Los Gatos Bed & Breakfast. Our biggest project this year was building our second cabin, which was started in May and finished in mid July. The main building got a new color scheme - now we're cream with green trim - giving us a fresh new look. The upstairs Grand Suite balcony also has a new look with a wood deck and white vinyl rails. The gardens are growing and we have started working on a "tasting garden" which will be filled out more next spring.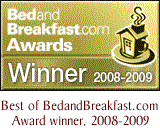 BedandBreakfast.com Award
Many of you have taken time to write very generous reviews about your Los Gatos B&B experience at Tripadvisor and BedandBreakfast.com. We have been very appreciative of your kind words, and have hoped that prospective guests would take notice. It turns out that the folks at BedandBreakfast.com also took notice- they selected us as one of their Best of BedandBreakfast.com winners for the mid-Atlantic states for 2008/2009. The selection is based on the number and quality of the reviews that have been posted on their site. It turns out that not only do we get the nicest folks staying at our B&B, but also the most eloquent!
On-line Gift Shop
With the holidays approaching, we want to remind everyone that we have gift certificates available which can be purchased through our on-line gift store at http://losgatosbandb.com/catalog. Our jams, jellies, syrup and coffee are also available there as well as many of the fun cat tiles. New this year is our official Los Gatos Bed and Breakfast coffee mug - at 15 oz. capacity, it holds a hearty serving of your favorite beverage!
Finger Lakes Escapes Specials
There are a couple of weeks left to take advantage of our Weekday Escapes program, which runs through the end of October- perfect for a getaway to see the leaves and do a little wine tasting. While this is a booming time during the weekends, the wineries and restaurants are not crowded during the week. We have designed Escape Packages that are perfect for when you are ready for a break and want to get away. We offer two nights in the room of your choice, complete with a full, country style breakfast each morning, a gift certificate for $40 (good at restaurants and wineries), and a VIP card good for discounts at many local wineries and shops here in Penn Yan! These packages start at just $259 plus tax, are available Sunday through Wednesday.
Our Winter Escapes program will run January through April. The Finger Lakes are beautiful in the winter, and here is a great chance for a relaxing getaway: 2 nights lodging, our full country breakfast each morning, a $40 gift certificate, and the VIP card for free tastings and discounts at select wineries on Keuka and Seneca Lakes. The Escapes are available 7 days a week, starting at $229. Call us or book on-line to reserve a package- or give one in the form of a gift certificate!
Fall Recipe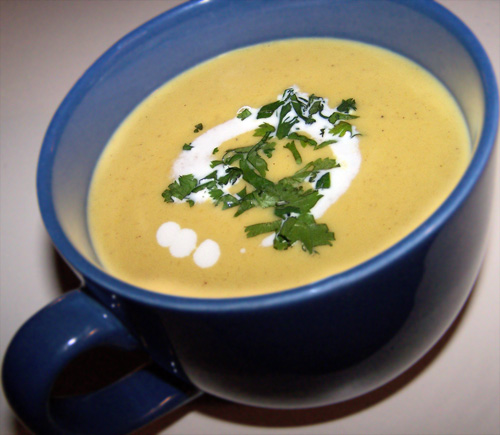 We have enjoyed beautiful fall weather so far, but we are bound to get some cold gray days as the season goes on. Here is one of our favorite soups for warming up on a chilly day:
BUTTERNUT SQUASH AND PEAR SOUP
Serves 8 to 10

4 Tbsp. (1/2 stick) unsalted butter
2 large onions, diced
1 medium butternut squash, peeled, seeded and cut into 1-inch pieces
4 medium fragrant Bosc, Anjou or Cornice pears, peeled
3 chopped into 1-inch pieces and 1 diced finely for garnish
1 qt. reduced-sodium chicken or vegetable stock
2 rosemary sprigs
½ cup heavy cream
Salt
Freshly ground black pepper
Sugar
Melt butter in a large pot over medium heat; add onions and cook until softened and starting to turn translucent. Add squash and pears and cook 5 minutes. Add stock, rosemary, and just enough water to cover the squash and pears. Bring to a simmer and cook until squash and pears are very tender, about 45 minutes. Remove rosemary sprigs. Purée in the pot with an immersion blender until smooth, or in batches in a blender or food processor. Stir in cream. Season with salt, pepper and sugar to taste. Place a heap of diced pear in the middle of each serving bowl, then surround with soup.

Fall Events:

The Windmill Farm & Craft Market is open on Saturdays through December 13.

Seneca Lake Wine Trail
Deck the Halls - November 21-23, December 5-7
Polar Passport - December 8, 2008 through April 13 2009

Keuka Lake Wine Trail
Keuka Holidays - November 15-16 & 22-23

Westside Wineries of Keuka Lake:
Wine and Pine - December 6-7

Dickens' Christmas in Skaneateles
Thanksgiving Friday, then Saturdays- Sundays through Dec 21


Burney & Susan Baron
Los Gatos Bed & Breakfast
http://LosGatosBandB.com
Toll Free: 866.289.7381
(315)536-0686