Greetings from Los Gatos Bed & Breakfast!
We've all heard the saying "April showers bring May flowers" so it's safe to say that we are expecting a more bountiful crop of Spring flowers this year than ever before! And actually, our daffodils and tulips are up and blooming now, right along with the magnolias and forsythias. New green leaves are appearing all around us and the birds are back too. We've been feeding the gold finches, cardinals, sparrows and woodpeckers a steady diet of sunflower seeds, and they seem to have decided that Los Gatos Bed & Breakfast is indeed the place to go for breakfast, lunch and dinner! As we wait for the ground to dry out a bit so we can get our new gardens planted we find ourselves looking forward to the upcoming visitors season and hopeful that we will be seeing many of you again this year!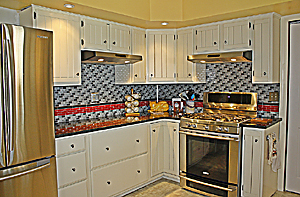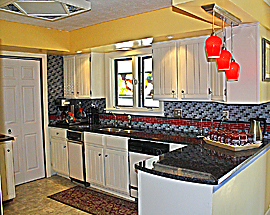 Kitchen Remodel
We have a freshly remodeled kitchen in which to prepare some new breakfast creations as well as the old favorites. The new look is exciting with freshly painted cabinets, granite counter tops, tiled back splashes and new stainless steel appliances. We're calling it a "country/modern" look - a little French Country combined with a bit of glass and steel - Nice!
Hot Air Balloon Trips
This year we have paired up with a hot air balloon company to be able to offer our guests a very exciting package including two nights in the room of your choice along with a hot air balloon ride that will lift off from our back lawns here at the Bed & Breakfast. This package can be arranged for one or two couples at a time, and can include either an evening or morning ride - check out the details here........
Finger Lakes Escapes Specials
Our most popular package is back! Here is a great chance for a relaxing getaway: 2 nights lodging, our full country breakfast each morning, a $40 gift certificate, and the VIP card for free tastings and discounts at select wineries on Keuka and Seneca Lakes. The Escapes are available Sunday through Wednesday, starting at $299 plus tax. Call us or book on-line to reserve a package!
Wine Tour Packages
Visit your favorite wineries in the comfort of a private limousine! Our Wine Tour Packages feature two nights lodging, our award-winning breakfast each morning, and a 6 hour private tour of the local wineries in a luxury sedan. Your knowledgeable and courteous driver will help you find the wineries that best suit your tastes, and safely drive you around the lakes. The Summer Wine & Dine Package is available through October 31, 2011. Prices start at $675, and include lodging and tour taxes.
On-line Gift Shop
If you are running out of your favorite Los Gatos B&B jams, jellies, coffee, or Apple Cider Syrup, check out our on-line gift store at http://losgatosbandb.com/catalog. One-price US Postal shipping boxes have made delivery an economical choice anywhere in the country- and our locally made products are always a much appreciated treat.
Spring Recipe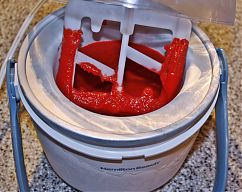 The strawberry season is just a few weeks away. The berry season is not very long, so we enjoy them in as many ways as we can with our breakfasts in the B&B- strawberries and cream make a good start to the day, and berries are great on waffles or Dutch Babies. As we start getting warmer weather, guests enjoy getting a strawberry sorbet for their first course.

Our favorite strawberry sorbet is very simple, and highlights the fresh ripe berries. We use a self freezing ice cream freezer- no ice or rock salt, and it has about a quart capacity.

Strawberry Sorbet
(Makes about 1 quart)

1 1/2 pound (3 cups) fresh strawberries, rinsed and quartered

1 cup sugar

1 1/2 teaspoon lemon juice

1/4 teaspoon salt

Slice the strawberries and toss them in a medium bowl with the sugar, stirring until the sugar is moistened. Cover and let stand for 1 hour, stirring occasionally.

Puree the strawberries and their liquid with the lemon juice and salt until smooth. Chill the mixture thoroughly, then freeze it in your ice cream maker according to the manufacturer's instructions. The sorbet can also be partially frozen in a shallow pan and stirred with a fork to break up the ice crystals. Refreeze for an hour and stir again. Either technique you use- transfer the sorbet to an airtight container and place in the freezer for 3 to 4 hours before serving.

Spring Events:

The Windmill Farm & Craft Market is open on Saturdays through December 11.

Corning Museum of Glass turns 60! May 19, 9 a.m. to 8 p.m. (free admission!)

Seneca Lake Wine Trail
Smokin' Summer Kickoff - June 10-12

Keuka Lake Wine Trail
Keuka In Bloom - May 14-15
Barbecue At The Wineries - June 11-12, 25-26

We hope to see you soon!


Burney & Susan Baron
Los Gatos Bed & Breakfast
http://LosGatosBandB.com
Toll Free: 866.289.7381
(315)536-0686